I sort of went into
The Killing Fields
expecting a very serious mediation on what happened in Cambodia. Maybe I set the bar too high. Not that it was a hollow picture, it wasn't. It was stirring. But... I wasn't expecting it to be so...
Bromantic.
I know that's weird to say, but it was kind of distracting after a while, to see Pran kind of holding Sydney up to be some kind of... mythical figure. I don't know. The film's resolution is them reuniting. I guess, the movie is about their relationship... with the backdrop of the Cambodian massacre. It basically gets to a point, where I don't give a damn about Pran. He's kind of overly subserviant. Maybe in the 80's it was more reasonable to have an Asian man servant type character who is basically in orbit around a Sam Waterson but that just don't fly with me. And Sam Waterson's guilt? Tch. Pran is responsible for getting a boy blown up but we see Sam Waterson hang around his apartment feeling bad? Oh man, I'm getting on a rant. Well, let me just say, everything I've referenced is in the second half of the movie. The first half, the part where the two guys are together is actually an all right movie. We got Waterson, Malkovich, and Spaulding Grey, who are all great to watch. Ngor is actually really good considering his lack of experience and training. I can see why he won the Oscar. Mike Oldfield supplies a dated but pretty neat score. A strange viewing experience for me, perhaps I'm being cynical... but I don't think multiple viewings would change anything.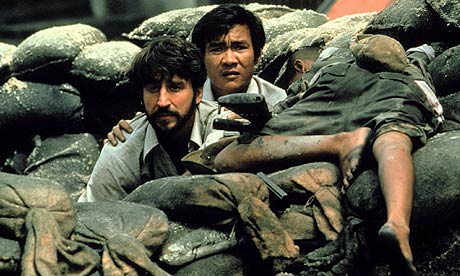 I wonder why everyone looks so sombe- Oh wait.